Aria Rostami and Daniel Blomquist, "Sketch For Winter VIII: Floating Tone"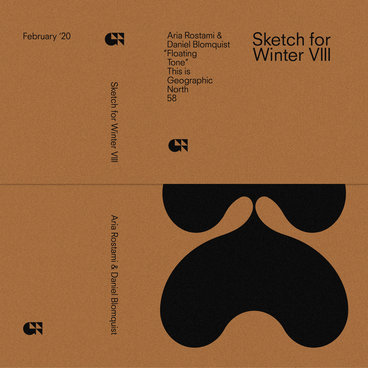 **The eighth installment in Geographic North's long-running Sketch for Winter series, which highlights compositions intentionally crafted for the colder season.**
Unsung heroes of the ambient underground, Aria Rostami and Daniel Blomquist have quietly created some of the most aurally alluring sounds released in the past five years. And although that time has solidified the duo's prowess of production and tenacity of texture, it has also shown its share of disruption and disorder. Having met and recorded all of their past works together in San Francisco, Sketch for Winter VIII: Floating Tone marks the first release made by the pair apart, with Rostami's recent move to Brooklyn. But rather losing touch or stalling collaboration, the duo's bond only grew stronger.
Rather than perform live improvisations in the same room, Rostami and Blomquist repeatedly passed material back and forth to be altered over time - sometimes involving extensive alterations, and others barely none. The result brings an astoundingly varied mix of melody, texture, and movement.
"The Sloping Tower" seeps into focus in a haze of pristine clatter, celestial chords, and synthetic detritus. Distant disembodied voices appear through rippling waves of melody, leaving only a tapestry of tattered sound. "The Sleeping Floor" meanders with a nocturnal melody that lulls and placates with a deft, delicate touch. A-side closer "The Guessing Hand" cultivates a seething but subtle soirée of nonchalant noir, suggesting some solemn and forgotten subterranean piano bar.
"The Running Glass" wafts in a cloud of blissful warmth, backlit with dimmed glee and neon vibrancy. "The Sinking Tone" turns the focus back to our piano, heaving in a lush and all-consuming storm of shimmering texture and noise. "The Floating Table" closes things out with utter resolve, reflecting on the receding action and dabbling in some amorphous beauty.
It's a powerful new chapter in Rostami and Blomquist's journey that solidifies their past and suggests endless opportunities ahead.
More information can be found here.