Brainwaves Seeks Sponsors
It is crucial this early in the game to get sponsors for the
2008 Brainwaves Festival
. We need money to pay for air fare, accommodations, theater rental, insurance, and various other things. Once again we're offering three levels of sponsorship packages:
Bronze Level:
your name in our sponsorship list on future ads and print materials, a link to your Web site from the Brainwaves site, eternal gratitude. ($200)
Silver Level:
all the above + a merchandise table for one block (Friday night, Saturday afternoon, Saturday night, or Sunday afternoon) and two free tickets. ($500)
Gold level:
all the above but the merchandise table for the entire festival duration and free ads on Brainwashed.com for a year. ($1500)
To sign up for a sponsorship package, please contact brainwashed at brainwashed dot com.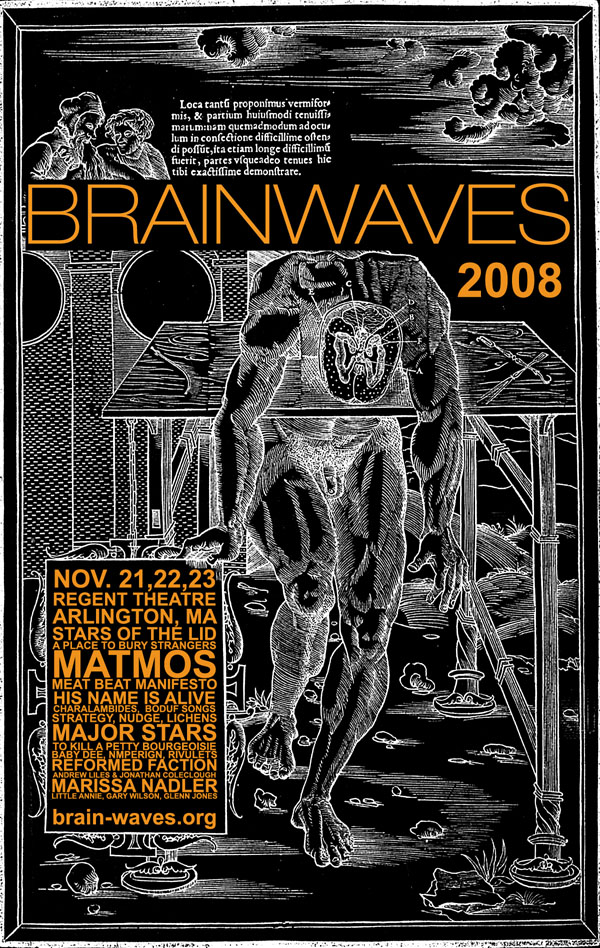 The lineup: Meat Beat Manifesto, Matmos, Stars of the Lid, A Place to Bury Strangers, Little Annie, Reformed Faction (Mark Spybey and Robin Storey of Zoviet France, Dead Voices On Air, and Rapoon), Andrew Liles and Jonathan Coleclough, Nmperign feat. Jason Lescalleet, Marissa Nadler, Glenn Jones, His Name Is Alive, Gary Wilson, Rivulets, Strategy, Nudge, Boduf Songs, To Kill A Petty Bourgeoisie, Baby Dee, Lichens