Cornelius, "Five Point One"; Belle & Sebastian, "Fans Only
Matador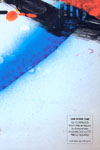 Five Point One
is comprised of two discs: a DVD compiling all ten the videos from Cornelius's 2002 album
Point
and an audio CD of remixes from the album contributed by fans as part of a contest. The videos, while creative, have a subtle, background feel to them, and seem to be intended more for use in Cornelius's live shows than on their own (and indeed, they were played as a backdrop during his tour for
Point
). While not wholly uninteresting, the videos are static in their content, usually relying on one or two primary images. "Point of View Point" shows cars and trains in motion, while "Drop" features a little boy standing in front of a sink while the water, synchonized to the beat, drips into the basin. The most enjoyable of the videos is "Tone Twilight Zone," with its images of two fingers walking (Yellow Pages-style) through a landscape of ordinary household objects. The remix CD,
PM
, is a mixed bag, running the gamut from electronic dance to japanoise to thrashy rock. Some are cute and catchy, and others are forgettable.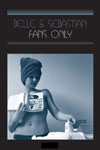 Fans Only
takes on the task of documenting Belle & Sebastian's inception in 1995 through their seven years of recordings for Matador and Jeepster. Their videos and live footage from various performances around ther world are interwoven into behind-the-scenes material and interviews. The videos proper are largely charmingly appropriate twee shots of the band (there are at least a few where they're seen clutching various stuffed animals) and their friends using super-8 cameras and other low-budget equipment. Highlights include a rendition of France Gall's "Poupee de Cire, Poupee de Son," recorded for French television and the video for "Legal Man," which features the band decked out in full mod regalia on stage in a decadent nightclub surrounded by freely flowing martinis and bellydancers, and a hilarious interview with the band for a Brazilian TV show. Clocking in at 136 minutes,
Fans Only
drags at times, but is for the most entertaining and does an excellent job of capturing the lighthearted, playful essence of the band.