Daughters of Darkness
Blue Underground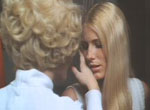 The legend of the Countess Bathory, the infamous despot and vampiress who purportedly slaughted hundreds of virgins in order to maintain her own youth, beauty, and immortality, is a tale that has been recreated for the screen a number of times. In Harry Kuemel's 1971 film
Daughters of Darkness
, the character of the medieval Hungarian countess is updated to the 20th century, and appears mysteriously in the lives of two newlyweds in an off-season Belgian resort. The couple, played by Danielle Ouimet and John Karlen (star of
Dark Shadows
), discover that they are alone in the hotel, bar the countess, her attractive young female companion, Ilona, and a suspicious hotel clerk. The Countess (played to perfection by the peerless Delphine Seyrig) expresses a subtle, yet immediate interest in the couple, who seem to be experiencing marital troubles from the very start, and ultimately she and Ilona set to seducing them both. That is, until their sexual schemes quickly turn into murder.
Although Daughters of Darkness is slowly paced, it avoids being tedious. Thanks to its beautiful photography of the posh resort and its eerie Bruges surroundings, superior performances by the cast (particularly Seyrig who nearly floats through most of her scenes in a series of breathtaking outfits), and a penetrating and haunting overall atmosphere, this film is far better than it could have been in less capable hands. Jean Ferry, a surrealist affiliate who penned a number of significant French films, co-wrote the screenplay, which is rife with often incomprehensible situations and stiff dialogue. Daughters is indeed part campy kitsch-fest, but director Kuemel appears to accept this as part and parcel of making an extremely low-budget film. However, it's certainly to look past the film's faults to discover its true dreamlike genius.
Previously available on DVD in a mostly bare-bones edition, the fab folks at Blue Underground have re-released Daughters of Darkness as a Director's cut edition and with a widescreen transfer. It includes some killer extras to top the whole thing off, including two separate commentary tracks (one with Harry Kuemel and the other with John Karlen), and a charming interview with actress Andrea Rau, who plays Ilona.