Mike Cooper, "Tropical Gothic"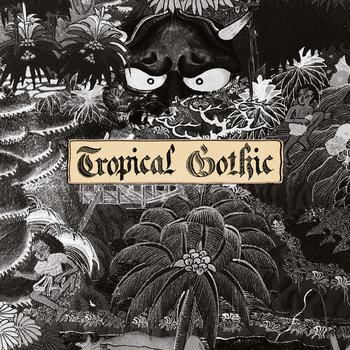 Since 2016 we've been blessed with Mike Cooper in our catalog. The first installment was New Kiribati, revisiting a self-released 1999 CDR in which Mike Cooper was experimenting with a lap steel, electronics, prepared guitar and live recordings, creating what he called "Ambient Exotica Soundscapes". In the following year, Reluctant Swimmer showed an enigmatic, exotic and elegant adventure into Mike's 1920s National tri-plate lap steel guitar and his Vietnamese electric lap steel. Two pieces, two sides, each ending with beautiful interpretations of some Mike's favorite songs, "Movies Is Magic" by Van Dyke Parks and Fred Neil's "Dolphins."
2018 and it's time for some new discoveries into Mike Cooper's limitless exploration in his collection of guitars. The title itself, "Tropical Gothic" references Cooper's beloved areas of 'the South' with a Gothic, dark, remote interplay... Tropical Gothic includes, but is by no means limited to, a reflection on a region where European colonial powers fought intensively against indigenous populations and against each other for control of land and resources.'
In each side Mike Cooper studies different approaches to his method of uniting guitar and field recordings into a constant stream of sound, where he delivers chaos and melody – not necessarily in that order. Side A is composed of shorter pieces. Each of them offers a myriad of images and sensations, between the enigmatic and terror ("The Pit"), joy, happiness and freedom ("Running Naked") or pure contemplation ("Onibaba").
"Onibaba" runs as a fitting introduction to Side B and its 18-minute magical piece "Lelong & Gods Of Bali." A mix of ambient exotica music, silent film soundtrack and distorted rhythms that dance around Mike's guitar. It keeps reinventing and transforming itself throughout those eighteen minutes, summing up the dexterity and muscle of Mike Cooper's music of the last two decades.
More information can be found here.