News & Events
Buzz Bin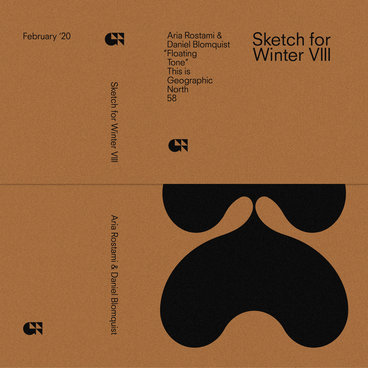 **The eighth installment in Geographic North's long-running Sketch for Winter series, which highlights compositions intentionally crafted for the colder season.**
Unsung heroes of the ambient underground, Aria Rostami and Daniel Blomquist have quietly created some of the most aurally alluring sounds released in the past five years. And although that time has solidified the duo's prowess of production and tenacity of texture, it has also shown its share of disruption and disorder. Having met and recorded all of their past works together in San Francisco, Sketch for Winter VIII: Floating Tone marks the first release made by the pair apart, with Rostami's recent move to Brooklyn. But rather losing touch or stalling collaboration, the duo's bond only grew stronger.
Rather than perform live improvisations in the same room, Rostami and Blomquist repeatedly passed material back and forth to be altered over time - sometimes involving extensive alterations, and others barely none. The result brings an astoundingly varied mix of melody, texture, and movement.
"The Sloping Tower" seeps into focus in a haze of pristine clatter, celestial chords, and synthetic detritus. Distant disembodied voices appear through rippling waves of melody, leaving only a tapestry of tattered sound. "The Sleeping Floor" meanders with a nocturnal melody that lulls and placates with a deft, delicate touch. A-side closer "The Guessing Hand" cultivates a seething but subtle soirée of nonchalant noir, suggesting some solemn and forgotten subterranean piano bar.
"The Running Glass" wafts in a cloud of blissful warmth, backlit with dimmed glee and neon vibrancy. "The Sinking Tone" turns the focus back to our piano, heaving in a lush and all-consuming storm of shimmering texture and noise. "The Floating Table" closes things out with utter resolve, reflecting on the receding action and dabbling in some amorphous beauty.
It's a powerful new chapter in Rostami and Blomquist's journey that solidifies their past and suggests endless opportunities ahead.
More information can be found here.
Parent Category: News & Events
Category: Buzz Bin
Hits: 2597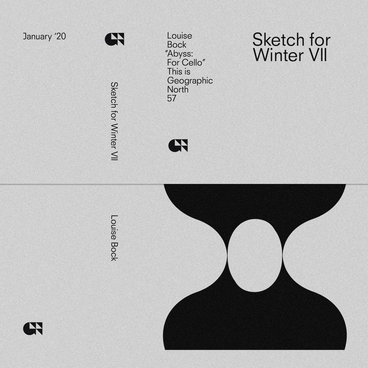 **The seventh installment in Geographic North's long-running Sketch for Winter series, which highlights compositions intentionally crafted for the colder season.**

Louise Bock is the nom de guerre of Taralie Peterson, a venerable veteran of the American avant-garde. Whether solo or together with Ka Baird as Spires that in the Sunset Rise, Peterson has spent nearly two decades exploring the outermost limits of ecstatic, free jazz-influenced improvisation. The sonic range of Peterson's opulent oeuvre is matched only by the variety of instruments she employed, including but not limited to voice, saxophone, clarinet, guitar, banjo, lap harps, mbira, spike fiddle, and so on. Now, under the sobriquet Louise Bock and focusing solely on the cello, Peterson returns with Abyss: For Cello, a profound work of considered minimalism composed during and intended for the dead of winter.

Deciding to focus entirely on the cello, Peterson rid herself of any other self-imposed rules, analysis, and judgment that ultimately unlocked unforeseen revelations. Opener "Horologic" offers a sustained seethe of heaving, serrated textures. "Jute" offers a dynamic run of striated tones that slowly dissolve into a pool of peaceful resolve. "Actinic Ray" brings a kaleidoscopic blur that offsets heaving lurches of chordal sound with almost acrobatic flecks of melody. "Oolite," featuring Kendra Amalie on guitar, is an engrossingly unsettling piece of auditory hysteria, balancing a fascinating and fine line between allure and aversion. Closing track "Prithee" prolongs a potent interplay of deep, dense resonance and exquisitely elegant static.

Through these ruminations, Peterson's cello exposes immense beauty, sorrow, and joy that is altogether deeply hypnotic and discreetly haunting.
More information can be found here.
Parent Category: News & Events
Category: Buzz Bin
Hits: 2659