"Made in Sheffield"
Sheffield Vision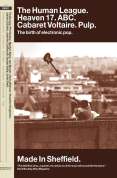 The perfect antidote to
Twenty Four Hour Party People
,
Made in Sheffield
is a low budget documentary on the post-punk Sheffield scene. It shows the real story of how a few groups of people formed some of the most influential, successful or forgetful bands of all time. I was disappointed that the film was shot in 4:3 but that is only a minor gripe. I also found some of the coverage of bands that have been rightfully consigned to the overflowing dustbin of history a bit too long. However, the rest I found to be an utter delight. The interviewees are honest about their achievments and, for the most part, accept their place in history. I was very relieved that the Human League's well-documented split was covered in a brief, honest, and touching manner. The same old ground was not covered again in some journalistic zeal. Herein must lie one of the stengths of the film: good editing. The wheat has successfully been separated from the chaff. As a bonus, this DVD edition features extra live coverage of some bands (none interesting to me) and longer interviews.
Made in Sheffield
comes with my strong recommendation to any brainwashed reader and anyone with an interest in the history of modern music.