jessica bailiff
October 2006
European tour dates are now available. Jessica will be accompanied by Jesse Edwards) and Annelies Monser will be sharing the bill
wed, Nov 22nd: VPRO radio session, Amsterdam, the Netherlands
thu, Nov 23rd Recyclart, Brussels, Belgium
fri, Nov 24th TBC
sat, Nov 25th Le Bobard, Nantes, France
mon, Nov 27th: Molodoi, Strasbourg, France
Tue, Nov 28th: TAGOMAGO, Marina di Massa, Italy
Wed, Nov 29th: TRAFFIC, Roma, Italy
Thu, Nov 30th: 500 ROCK CLUB, Pieve di Cento, Bologna, Italy
Fri, Dec 1st: ORTOSONICO, Giussago, Pavia,Italy
Sat, Dec 2nd: HEMDENDIENST, Nurnberg, DE
Sun, Dec 3rd: JC De Klinker, Aarschot, Belgium Mon, Dec 4th: D-Qliq, Luxembourg, Luxembourg Tue. Dec 5th: houseshow, Gent, Belgium
To celebrate the 10th anniversary of brainwashed.com, a festival will take place in Boston during November 17, 18 & 19th, called Brainwaves. Jessica will be performing, along with many other acts near and dear to Brainwashed. This is a labor of love, and is not for profit. Your support is greatly needed and appreciated to help this weekend of diverse performances take place - from purchasing one of the 500 limited tickets, to buying a t-shirt, to making a simple donation...it all helps. See www.brainwashed.com/10 - and thank you.
JUNE 2006
Cover artwork and sound samples are now available for Feels Like Home, the fourth solo album, released by Kranky on July 24, 2006 (delayed from the original release date of July 10th). A full MP3 for the song "Lakeside Blues" is available at www.kranky.net in the free mp3 section.
Jessica will be performing songs from her new album at Rama-Lama Records in Toledo on Saturday, July 8, 4pm.
Contributions can also now be found on Larvae's Dead Weight album (vocals on two tracks), available now from Ad Noiseam and guitar on Vlor's A Fire is Meant For Burning, available later this summer on Silber.
Find vocal contributions from Jessica on the new Larvae album, to be released June 12, 2006 by Ad Noiseam.
FEBRUARY 2006
The performance at Stormy Records with Windy & Carl on Saturday, November 26th was captured by Brainwashed for The Eye and can now be seen online by clicking here. A DVD of this is now available directly from brainwashed here.
The Eau Claire performance at SXSW in Austin is not happening. We apologize for any inconvenience.
In the near future, you'll be able to buy jb merch at this website. We'll keep you posted.
OCTOBER 2005
The Norhern Song Dynasty album gets a wider-scale release this month through All Is Number Records. Northern Song Dynasty is the collaboration between Jesse Edwards and Jessica Bailiff. The album was recorded around the same time as the eponymous Jessica Bailiff record, released 2002 on Kranky. See www.allisnumber.us for more details.
JUNE 2005
Jessica will be participating in the recording of the next Rivulets album in early July; see www.rivulets.net for future release details.
A short tour is being scheduled with Annelies Monsere (www.annelies-monsere.tk) for late July. So far, this is what we have:
Tuesday, July 19, Toledo, OH, venue TBA (with dREKKA - www.bluesanct.com)
Wednesday, July 20, Dearborn, Michigan, Stormy Records (with dREKKA)
Thursday, July 21, TBA
Friday, July 22, Chicago, IL, Beat Kitchen (with Rivulets - www.rivulets.net)
Saturday, July 23, Bloomington, IN, Bluesanct Fest, venue TBA (with Rivulets)
As far as we know, there will be a radio session broadcast from WNUR on Saturday, July 23 (recorded Friday), both Annelies and Jessica performing.
Still working on JB album 4.
Still working on clear horizon album 2.
Out now:
7" single on Brainwashed Recordings. It contains four songs recorded live on VPRO Radio in Amsterdam from 2002. They can be bought at the Brainwashed shop. Remaining copies (if there are any) will be sold to stores and distributors upon release.
Odd Nosdam (see www.anticon.com) 12" vinyl EP, "Untitled Three"
Contains contributions by JB and Jesse Edwards (Northern Song Dynasty & Red Morning Chorus)
Odd Nosdam's LP, "Burner," to be released in June, will also contain the track, "Untitled Three," w/vocals & lyrics by JB, and another track w/guitars by JB & JE
The Eau Claire EP is out on Clairecords; the band also has a website: www.eauclairemusic.com. It's still new, and under construction.
The new cover design for the Northern Song Dynasty reissue is complete, and the album should be in production soon, thanks to Allisnumber Records (www.allisnumberrecords.com). Hoping to be out by summer...
Please patronize your local, independent shops and markets, eat healthy foods, and spend some quality time with those you love.
SEPTEMBER 2004
Dear Friends,
I hope that all of you are doing well and that you've had an amazing summer. I'm writing to update you on my musical whereabouts. I haven't given any news for my web page in a year; time somehow evaporates for me too quickly. Several collaborative efforts (with talented friends that I greatly admire) and compilation releases have happened, or are about to happen.
This summer, a CD was issued by the Great Vitamin Mystery label (www.thegreatvitaminmystery.com) called "For Jonathan." Various artists contributed tracks to a short film shot by Chris Bennett (also on the CD). A jb track closes the collection. Proceeds from the sale of the CD will be donated in Jonathan Hicks' honor to the Children's Inn. Bennett organised this effort for his friend, Jonathan, who passed too soon. See the label's website for more info.
You'll find contributions from me on two recent Rivulets EPs - a split with Marc Gartman, and one called You've Got Your Own (www.rivulets.net).
The latest Flashpapr record was just released last month. A few years ago, they invited me to sing on a track, so I happily did. It should be available through Carrottop, through www.polyvinyrecords.com online store and also by sending a check for $10 to: Fred Thomas c/o Ypsilanti Records p.o. box 970021 Ypsilanti MI 48197 u*s*a.
Early to middle 2005 will see the release of both an EP and a full-length from David Odd Nosdam of the now (sadly) defunct cLOUDDEAD (www.anticon.com). Both vocal and instrumental contributions from me will be on these recordings.
The Eau Claire EP will be released this fall with Clairerecords. This is a project with Rachel from Experimental Aircraft. Al Sparhawk from Low recorded/produced the EP. We've had so many delays with this - other than the fact that she's in Texas and I'm in Ohio (long distance), we've had label searching (thanks, Clairerecords!), computer crashes, moving, root canals, and other little snags. Many apologies to those who have been waiting to hear our songs. Visit www.rollerderbyrecords.com/eau_claire.htm for pictures and info.
The Northern Song Dynasty album (featuring Jesse Edwards and myself, with special appearances by Noel Keesee, Cortney Bird, and Fred Thomas of Flashpapr and Saturday Looks Good To Me) will be reissued by All Is Number Records. The packaging will be updated some, but will retain the same artwork (by Iker Spozio, who has been doing beautiful illustrations for the Ptolemaic Terrascope magazine from England). Coming soon; keep an eye on the label's site (www.allisnumberrecords.com).
The Red Morning Chorus album is coming ever closer to being finished. Jesse's latest material is amazing. It is a beautiful expansion of his Blue Flowers promo CD from 2002…entrancing, psychedelic genius. You might hear my voice on a few of the tracks. We'll keep you posted about Red Morning Chorus on the jb web page until further notice.
Just issued is the tribute to Low, We could Live In Hope, on which you'll find my version of "Down" (www.fractured-discs.com). Two other tracks have also been finished, submitted, and are awaiting release. "A Million Things To Do" is for a future issue of the Patty Duke Fan Zine (www.topqualityrockandroll.com/PDFZ), which includes a 7" colored vinyl compilation with each issue (cover versions of songs Patty recorded). Then there's a compilation from Fire Records (www.firerecords.com) in England based on the James Joyce collection of verse called Chamber Music. Each artist invited was assigned a verse; I created something for Verse IV.
Finally, I'd like to mention a few things in the works. Brian John Mitchell (www.silbermedia.com) is orchestrating a collaboration called Vlor; he has recorded several tracks and mailed them out to friends so they can add parts (myself included). Also, <<clear horizon>> (with Dave Pearce from Flying Saucer Attack) has a second album underway. If you haven't heard the first, please get your copy today from www.kranky.net. There will be more compilation appearances, and I've been collecting material for a fourth solo album. I plan to spend the autumn and winter months holed up recording, so wish me luck!
All the best,
Jessica B.
September 4, 2004
2003
clear horizon
clear horizon is the culmination of two years of tape trading across the Atlantic between Jessica Bailiff and David Pearce. Jessica Bailiff has released three albums on kranky, with the most recent self-titled album being her most confident, detailed and well-received yet. David Pearce is an accomplished and influential musician who lives in England. Suffused with folky textures and bleached white noise (often simultaneously), the clear horizon album collects the band's first formative recordings. Both Bailiff and Pearce contribute vocals and guitar, with piano, various effects and occasional percussive elements entering into the mix as well. Although the resulting nine songs do embody some of each member's trademark sounds; something strange, interesting and new seems to have developed in their fusion here as clear horizon. clear horizon is a continuing project, and the duo have already spent time together in England writing and recording music for their second album.
Watching the Sea
Death's Dance
For Days - [MP3]
Sunrise Drift - [MP3]
Millenium Blues
Distortion Song
A Child's Eyes
Dusk - [MP3]
Open Road - [MP3]
Recorded with Dave Pearce of Flying Saucer Attack.
Release date: November 17, 2003
elegy radio ensemble
In late September of 2001, in honor of a friend who had been murdered, a 25 hour improvised drone was staged in Duluth, Minnesota. The event was as grueling as it sounds - a constant sound performed by a rotating, eclectic gathering of artists, but for those who participated and witnessed it, there will be nothing quite as uniquely moving. The fact that the event took place only days after the terrorist attack on the World Trade Center only added to the emotion.
The day the 25 hour drone was to begin, local radio station KUMD, invited several of the participants down to discuss the event and play some improvised pieces in an effort to give listeners a taste of what to expect that evening.
Participants came from all over the country - friends coming together for this powerful experience. This CD includes the two radio performances from that afternoon. Each is around fifteen minutes in length - the first, a slow building, note-centered drone, and the second is more noise/atonal with scattered electronic sounds and dissonance.
The original 25 hour drone raised money and awareness for a scholarship set up in honor of Michael Lenz, the friend who was murdered. Profits from this recording will go to that same scholarship.
ELEGY RADIO ENSEMBLE
Jessica Bailiff - cello,
Brian John Mitchell - electric guitar
Mark Gartman - electric guitar
Jesse Beacom - acoustic guitar
Ryley Fogg - hurdy gurdy and electronics
Michael Anderson - dulcimer and electronics
Alan Sparhawk - percussion and keyboards
This release should be available now through Chairkickers' Music.
Rivulets
Also available now on Chairkickers' Music is the second album from Rivulets, "Debridement;" Jessica appears on a few tracks. http://www.rivulets.net/ for more information.
Rollerderby appearances
There is an out-take from the last JB album recording sessions, "Let Time Breathe," on the first release from Rollerderby Records, a compilation called The Speed By Which We Fall as well as a new project called Eau Claire, which is Jessica with Rachel Goldstar. See http://www.rollerderbyrecords.com/ for more information on these releases. Images from Eau Claire recording sessions are available at http://www.rollerderbyrecords.com/eau_claire.html.
Live photos
And for the curious, there's some photos by Laurent Orseau from the Paris show at Le Glaz'art, November 21, 2002 - http://lorseau.hinah.com/gallery.php?c=pzic&s=concert&g=bailiff. The site also has photos of several other musicians, including Drekka and Rivulets, who Jessica toured with in Europe in November, 2002.
new recordings, new ensembles, new photos
There is an out-take from the last JB album recording sessions, "Let Time Breathe," that will be on the first release from Rollerderby Records, a compilation called "The Speed By Which We Fall." Release date is February 14, 2003 - http://www.rollerderbyrecords.com/.
There's a new project called Eau Claire, which is Jessica with Rachel Goldstar; they recorded an ep last year that should be released later this year - http://www.rollerderbyrecords.com/eau_claire.html
Also coming soon, March 4, 2003, is the second album from Rivulets, "Debridement;" Jessica appears on a few tracks - http://www.rivulets.net/
And for the curious, there's some photos by Laurent Orseau from the Paris show at Le Glaz'art, November 21, 2002 - http://lorseau.hinah.com/gallery.php?c=pzic&s=concert&g=bailiff. The site also has photos of several other musicians, including Drekka and Rivulets, who Jessica toured with in Europe in November, 2002.
jb in the usa
Jessica Bailiff tour dates are coming together for North America. She will be on the road with the bands Charles Atlas and Yellow6 beginning on March 16th in Seattle. For the most updated schedule, see the kranky site.
northern song dynasty
People The Sky is proud to finally present a limited pressing (100 copies) of the long-awaited Northern Song Dynasty album. Started in 1999 as the project of Jessica Bailiff and Jesse Edwards (Red Morning Chorus), Northern Song Dynasty immediately commenced capruting the slow-motion melodies floating around their living room. Recorded and produced fully by the duo at home, Northern Song Dynasty securely finds its place as the precursor to Jessica Bailiff's folked-out untitled third album and the psychedelia of Red Morning Chorus' "Blue" EP. There is plenty of depth for listeners to explore and it is all the more charming with the addition of a gorgeous cover design by Ptolmaic Terrascope illustrator and maestro Iker Spozio.
Special guest musicians appearing on the closing track of the album are Fred Thomas (backing vocals) of Flashpapr and Saturday Looks Good To Me and Cortney Bird (tin whistle).
The CD can be purchased for $10 by contacting People The Sky directly at peepthesky@yahoo.com or from Tranmission (Rome, Italy) and the B-Bop Records (USA) web sites.
eponymously speaking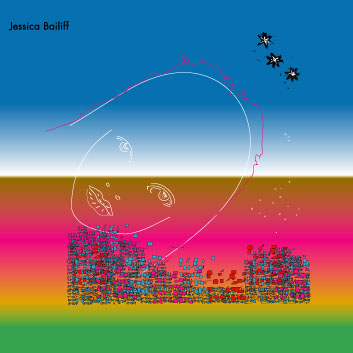 Call it Jessica Bailiff, Untitled or anything you want; the third album from Jessica Bailiff exceeds the promise of her first two albums. Simultaneously clearer and murkier, it features a more acoustic focus and experimental sound placement. Recorded at home with help from Jesse Edwards (Red Morning Chorus) and former bandmate Noel Keesee, the album was realized between Sept. 2001 to Feb. 2002. Two songs feature the violin-uke (most notably the stark "Hour of the Traces"), there is a tin whistle on a few tracks, piano, a few computer fx, drums, smeary guitars and even sitar.
Jessica Bailiff describes her new album as being about "...stagefright, dreams, loss of creative energy/desire, love & time, living in the same place all your life, ghosts, near-death experiences, etc..." After recording two albums with the members of Low, Jessica Bailiff has created a direct, stripped-back album that showcases her strengths in both songwriting and arragements. Chris Nosal wrote in Philadelphia City Paper that "Bailiff merges the best of rock, folk and genuine sonic exploration into a loud and powerfuyl whisper." David Keenan wrote in The Wire that "Bailiff has succeeded in creating a singular soundworld where frail, intensely personal wordage combines with hurricane sound."
tracks:
Swallowed - [MP3]
Hour of the Traces
The Hiding Place
Big Hill - [MP3]
You Were So Close
Disappear - [MP3]
Mary
Time is an Echo
The Thief
available now
live shows
Jessica will be performing around North America and Europe in October and November with Rivulets and Drekka. For the most comprehensive up-to-date list, check out www.bluesanct.com/november2002.
OLDER NEWS
A limited quantity of the Jessica Bailiff & Alan Sparhawk 7" is available for mail order through Jessica. In the US, send check or money order for $4.00 (includes postage) to p.o. box 13239, Toledo, OH 43613. For overseas orders, send $8.00 (International Money Order, US Dollars).
The rumors are true; Jessica has been working on a collaboration w/Dave Pearce of the legendary Flying Saucer Attack via mail. No release date is planned; ckeck back for future posts.
The Northern Song Dynasty album is finished; release plans are being sorted out.
A new record label is born: Rollerderby Records. Run by Rachel Goldstar (Experimental Aircraft, The Swells) from her headquarters in Austin, Texas, she's planning a compilation for her first release. Included will be exclusive tracks from Jessica as well as the.dithering.effect, and many other carefully selected artists. Look for it in spring of 2002.