Two brand swanking new 7" single releases are available now on vinyl from v/vm Test Recordings.
This collection of Oldhamtunes pulls a ton of stuff (16 tracks to be exact) from four trackdemos, home recordings, live stuff, peel sessions and other bits andpieces hanging around from the last seven years.
With ITN moreso than Coiland Greater Than One, I'm mildly aggrivated when I mention them tosomebody and get a response like, "oh are they still around?"
One album which shouldmost definitely have been instrumental is the fourth full-lengther fromformer Depeche Mode electro wizard, Alan Wilder.
This excellentraster-noton release is really worth getting. It's a strange andintelligent little EP, with a nice balance between tightly controlledminimalism and playful goofiness. Very impressive!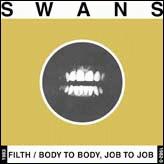 Since Swans demise in 1997, Michael Gira has meticulously re-packaged exactly what he wants to preserve of Swans 15 year legacy via double cd re-issues, this being the fourth and final one. This set couples the long out print 1983 debut album
Filth
and the 1982-85 studio out takes and live recording collection
Body to Body, Job to Job
. In addition is a previously unreleased 25 minute live show in NYC from 1982/3 and a 9 minute live version of "Raping a Slave" from 1984. Noticeably missing are the four songs from the debut s/t EP from 1982.
One of the most foul-mouthed, sleazy, perverse, sexist and nasty records I've ever heard.
Glitch music is quickly becoming the new jungle: a newborn style that artists, both old and new, look to for inspiration.
Soul music, just like any good genre, needs an album to redraw its blueprint every now and then.
This release marks the10th full-length original studio record of that lovable NY trio thatdoesn't seem to have an enemy in the music press. Rightfully so, too.