News & Events
Buzz Bin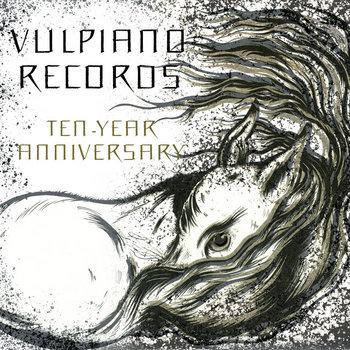 Netlabel Vulpiano Records is celebrating its 10th anniversary with a cassette tape compilation as a benefit for nonprofit digital library Internet Archive (archive.org).  Limited to 100 copies and featuring exclusive and favorite tracks from the label's international roster of artists from Australia, England, France, Italy, Japan, Portugal, Russia, Spain, and the USA.  Each cassette is hand-numbered and comes with either a holographic tarot card (78 copies) or an Artist Trading Card collage on a playing card (22 copies), selected randomly.  The genre-spanning release celebrates the musically diverse and collaborative spirit of the long-running label with selections in drone, folk, electronic, and more.

For a label founded on a Creative Commons ethos, Internet Archive has long been an indispensable host for Vulpiano: a place for our artists' work to be free to download, share, copy and redistribute.

The tape features drone / folk duo Natural Snow Buildings' first track since the 2016 release of Aldebaran: "Charles Thomas Tester". (Cassette exclusive)

Vulpiano Records logo art by Solange Gularte of Natural Snow Buildings.

Album layout and logo edit by Marilyn Roxie.

Playing card collages by Dan Shea and Marilyn Roxie.

More information can be found here.
Parent Category: News & Events
Category: Buzz Bin
Hits: 4303
As you lay on your back in the deep grass on a shadowy late-summer afternoon…tracing the outlines of patterns on the inside of your eyelids illuminated in translucense beneath the sun….ruminating, drifting in and out of sleep. Your dreams flirt with the irrational fears of the dark, of being left alone, of infinity…of being lost in corn fields reaching taller than the sky, of the comfort of feet dangling in a cold lake and splinters from running on a sun-dried summer dock. The world once felt new and alive…now through a haze, lost from the opacity of time.

Ohio is a new project from of 12k founder Taylor Deupree and long-time label-mate and collaborator Corey Fuller. The genesis of Ohio, besides the desire to work on a full album together, was them realizing they were both born in the US state of Ohio, not far from each other, and spent their earlier years crafting young memories there before moving away. This ended up being a simple, but interesting point of departure for the project because these early, hazy memories provided compelling conceptual roadmaps for the album as well as become inspiration for the song titles.

With no lack of irony the project started with a playful cover of singer/songwriter Damien Jurado's "Ohio." Deeply loved by both Deupree and Fuller, covering this song liberated them from working in their traditional "ambient" comfort-zone, challenging them with new structures and new directions. Their version of "Ohio" slowed the song down and explored acoustic and electric guitars, vocals, harmonies, pop-centric song structure, field recordings and a plethora of subtle studio fun (the looped clicking motor of a Roland RE-201 Space Echo being used as a "hi-hat" of sorts) and layers.

The project expanded from there and moved gradually as they very much felt working in the same physical space was important to its core. Writing, overdubbing, mixing and editing continued as the two found time to make the journeys between Tokyo and New York to share a studio. Each visit the songs would become more refined and be pushed into new and unexpected directions. A cathartic intensity found its way into the music echoing the intensity of life but at the same time remaining grounded.

The four years spent creating Upward, Broken, Always resulted in an album that engages the dichotomy between ambience and intensity. The hazy reworking of Jurado's "Ohio," or the duet for acoustic guitars recorded in the woods outside of Deupree's studio contrasts with the surprising, beautifully intense swells of overdriven guitar. Faraway drums and Fuller's ghostly vocals further expand the sonic image.

During one of their final editing sessions, with the accidental muting of musical tracks, the interludes at the end of each LP side were born. Fragments of preceding songs, stripped to a ghostly minimum like those distant Ohio memories.

Upward, Broken, Always is released in online formats and as a limited edition of 125 double 12" LPs. The LP art features an aerial photograph of the state of Ohio as well as the barn from Deupree's childhood home inside the gatefold jacket. There are 3 sides of audio on the release with Side D of the 2nd record being a full-side graphical etching of a topographical map.
More information can be found here.
Parent Category: News & Events
Category: Buzz Bin
Hits: 4120