Don't let the nameof the group fool you, this is hardly something to overlook.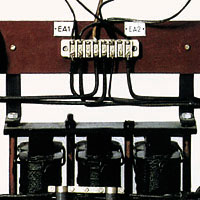 The return of the Tied + Tickled Trio marks the second album as this side project from Germany's The Notwist.
Now I remember why I avoided all those Psychic TV live albums all these years. Yuck.
Richie Hawtin has beenDJing, playing and recording Detroit and minimalist techno for a decadenow under his own name and as Plastikman, F.U.S.E., etc.
Kate Messick, vocalistfrom Unto Ashes, appears with composer/lyricist James Babbo on thisalbum, and her full upfront vocals seem flatter and less textured thanon Moon Oppose Moon.
Featuring a wide array ofexotic old and world instruments, fused with modern electronics andvocals in three different languages, Unto Ashes blends the renaissancefolk goth genres into a melange of pathos.
From the first few notesof this CD, it is evident as to why Volcano the Bear is one of StevenStapleton's favorite new groups.
David Coulter is a multiinstrumentalist who was a contributing member of the Pogues and TestDept., has played with Peter Hammill, The Kronos Quartet, Marc Ribot,Talvin Singh and Roger Eno among others and currently lectures atStratford-upon-Avon College. "INterVENTION" is his solo debut viaMichael Gira's (SWANS, The Angels of Light) Young God Records.
Oh yeah, here's anotherfuckup from Fat Cat on CD. This is pointless! If you're going torelease a CD compilation of some of the 12" only releases, then compilethe whole damned series, not just highlights and charge a full pricefor this shit.
Richard H. Kirk is back once again, this time resurrecting theElectronic Eye moniker for the first time in 5 years.